Many people skimp on backing up data on their Android devices because they feel it is completely unnecessary for their phone, until the unexpected happens.
Your phone or tablet could be stolen or may accidentally fall into a puddle of dirty water leaving all your data inaccessible. That is when having a backup solution can help you.
To back up data on your Android devices, you could use any of the best free backup software on this list: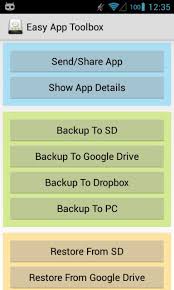 If you need more than a device backup utility for your Android, Easy App Toolbox might just be the one you are looking for. One of its cool features allows you to send your installed app to others through the cloud or email so that they can install it immediately. It also has a built-in uninstaller in case there are apps you wish to remove from your device.
However, its backup feature is only limited to backing up of apps with no functionality for SMS backup.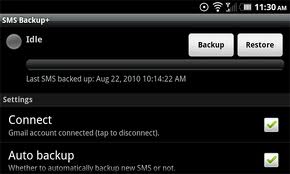 SMS Backup+ may not be able to back up your apps but it does a good job in backing up messages and call logs. Once installed, it will automatically sync your call logs, MMS and SMS in a tagged label with your Gmail account. Users can configure when or how often this app will back up.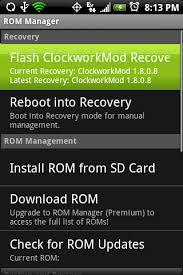 Although not primarily designed as a backup application, ROM Manager is one of the best free backup software available. It can easily make a clone of your phone or do a full backup of your apps, messages and anything on your device. Users can then view or restore ROMs when needed. You may also make and manage your device's restore points.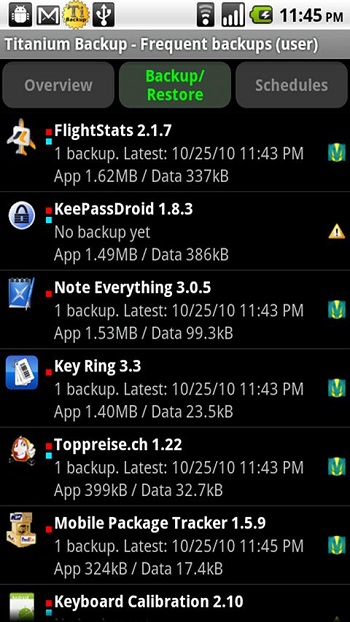 For rooted Android devices, Titanium Backup can be a great tool for conducting backups. It is a reliable application that lets you back up your apps, contacts, SMS and other files into an internal storage which you can conveniently transfer to an external storage device. It can even back up protected premium applications that cannot be backed up by other software.
Also, it supports batch backup and uninstallation as well as fast restoration of backed up applications.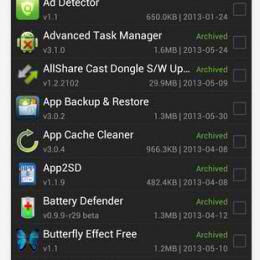 Although it is a relatively new app for backing up Android devices, Mobile Backup & Restore has gained many positive feedback as one of the best free backup software applications.
Its free version can back up SMS messages, call logs and contacts, while the premium version can also back up videos, music, photos and apps. It also features easy-to-use automatic backup and task scheduling options.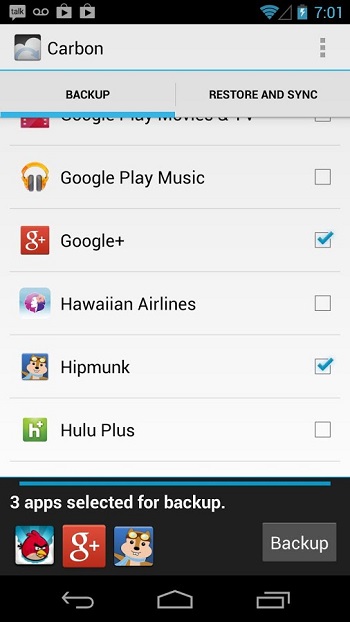 Helium App Sync and Backup is a utility that can be useful for backing up apps, contacts, data, text messages and call logs without rooting your device. Aside from these basic features, its premium version also allows for backup scheduling and uploading of backups in the cloud. Anybody can easily use this utility because of its simplified interface.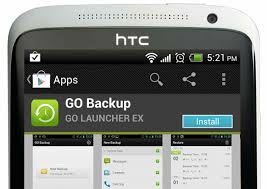 Many are surprised at the functionalities and positive user experience that Go Backup offers to its users. Developed by a Chinese company, this app offers a number of great features in its free version. It can back up and restore MMS, SMS messages, call logs and contacts, which are often only available on paid apps.
When you upgrade to its premium version, it allows you to enjoy some of its advanced features such as storage space of up to 200MB and cloud backup. The premium version also backs up and restores system settings such as wallpapers and ringtones.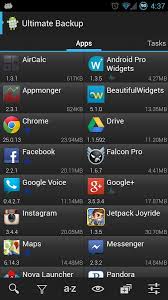 Ultimate Backup is a versatile application for applications and data backup. It features a number of free tools such as cloud or local backups, Dropbox sync, task killer, uninstaller, cache clearing and others. You can use it to back up bookmarks, calls, Wi-Fi details and phone data.
The premium version includes task scheduling, backup restoration and several other advanced features.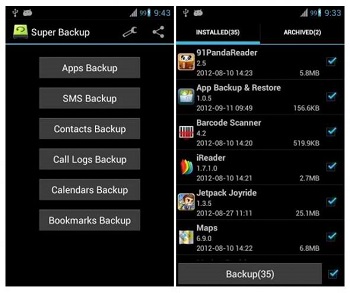 Super Backup is a top-of-the-line free application that has functionalities for backup and restoration of data from Android phones. It can back up apps, settings, text messages, contacts, bookmarks, calendars and other phone data with an option for automatic backup scheduling.
Backups can then be saved to an internal storage, SD card, Gmail or PC. All these features are free but are supported by ads which some users may find intrusive to their eyes.