Running businesses has become quite more complicated and sophisticated. With changing regulatory requirements and the ever progressing nature of commerce, recording and handling business records are more than just debits and credits. This is especially true for businesses that involve diverse and high volumes of products and services. Thankfully, bookkeeping no longer needs to be manually performed. With business accounting software, repetitive accounting or bookkeeping tasks can be made easier and set to automatically update with changes in records. Presented below are some of the top software solutions for small-mid size businesses.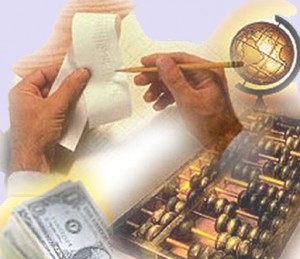 10. Outright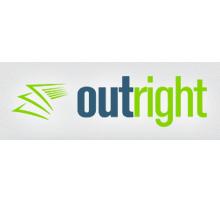 Outright is a web-based accounting program that can be used free of any charges. It is specifically intended for micro-businesses that don't have payroll or inventory control requirements to deal with. It offers a clean and minimalistic interface with a design that easily integrates with related services. It can manage credit card transactions. It also provides the function of estimating Federal taxes due but there is no state tax tracking feature. The program also does not support electronic tax payments.
9. Freshbooks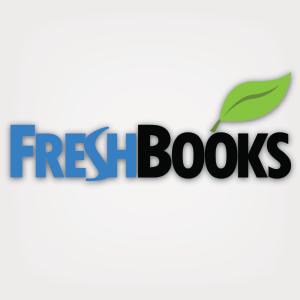 Freshbooks is an online accounting application designed for small business owners. It offers simple methods for handling various business tasks like printing, sending out invoices and price quotes, sharing of business documents and reports, and dispatching. It also supports external collaboration and ticket-based transactions. It has smartphone support on the web. Moreover, it offers project and document management features and the ability to integrate a number of add-ons. This software doubtlessly makes online business operation very easy but it is not free and may prove to be an expensive option for those who have multiple staff.
8. AccountEdge for Windows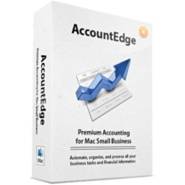 As the name suggests, this accounting software is only intended for Windows users. This is the program previously known as MYOB. Being one of the easily recognizable names in accounting software, AccountEdge proves to be speedy and filled with a comprehensive range of functions and features. It comes with simple interface but with in-depth financial management and inventory control functions. The program easily integrates with online stores and supports multiple currencies but it has no standard online bill pay. Users may not also be able to have their own company dashboard.
7. xTuple PostBooks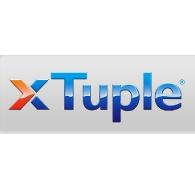 This is another open source accounting software designed for small business operations. What makes it different from other accounting software is its modular design that integrates accounting, purchase, manufacturing, sales, inventory control, product management, and CRM modules. This free software supports multi-user and multi-location access and provides the tools for managements shipments and receipts, assembly lines, quote generation, task management, warehousing or inventory management, and the billing of materials. xTuple is ideal for small growing businesses. Its modular design allows users to add more functions as they are needed.
6. Compiere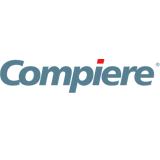 This is a free accounting software although it also has a commercial edition that offer additional features. The basic features include project accounting, e-commerce, order management, materials accounting, and the processing of sales and services. Compiere also offers enterprise resource planning and customer relationship management functions. It supports multi-currency transactions and allows customizations based on specific tax laws and accounting standards. The program works for Windows, Max, and Linux computers.
5. SQL Ledger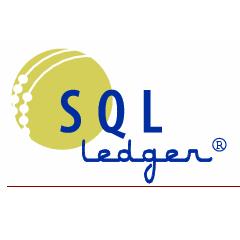 This cross platform web-based enterprise resource planning is ideal for shops or stores that require purchase orders, point-of-sale controls, inventory management, packing lists, vouchers, time cards, and access for multiple users in multiple locations. It is available in free and enterprise versions but both need a web server and an SQL server to work. Many users consider SQL Ledger to work best on Linux computers, especially in terms of security. The enterprise version of the software offers barcode and label printing support, a payroll management function, invoice consolidation, and a help system that may be customized.
4. GnuCash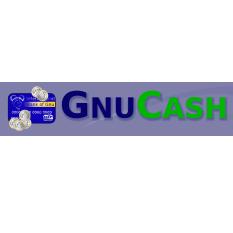 GnuCash is one of the popular open source accounting software available. It is designed for small business use but it employs a proper double entry accounting system to allow users to easily transition to more sophisticated accounting as they expand their businesses. This flexible software can be made to work according to specific needs. It has the tools to dealing with accounts receivables and payables, invoices, credit and loan accounts, banking, investment accounts, tax preparation, depreciation accounting, and transactions involving multiple currencies. However, it does not have point-of-sale or payroll functions. The lack of payroll function can be remedied, though, by manually inputting tax and other payroll related details.
3. Turbo Cash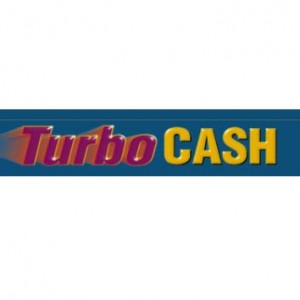 This open source accounting program competes with the features and functionality offered by Quickbooks Pro and Sage. Its range of features includes the ability to manage inventory, stock pricing and quotes, invoices, point of sale, barcodes, trial balance, batch operations, VAT computation, and reporting and analysis. This program supports multiple users and access controls. Designed for simplicity and ease of use, Turbo Cash features a minimalistic but attractive interface.
2. Quickbooks Pro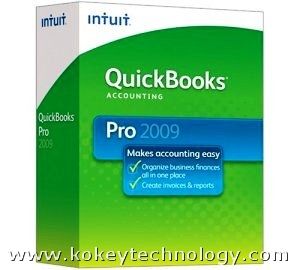 Quickbooks is one of the leading accounting software available. It is designed to be easy to install and use. Created to streamline all accounting or bookkeeping tasks, this program includes an auto-fill function and a tool for importing data to quickly generate such documents as invoices and vouchers. Through an intuitive user interface, Quickbooks simplifies the process of managing inventory, tracking personnel service hours, billing clients, and printing professional invoices and price quotes. The program features a customer snapshot function useful for tracking customer activity. It is also comes with basic free email support.
1. Sage Peachtree Complete Accounting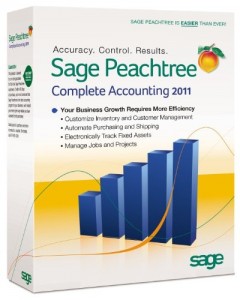 This comprehensive accounting software solution is noted for its rich collection of features that makes users easily administer all aspects of a business. It is capable of managing payrolls, vendors, reports, cash flows, and electronic banking. It can also copy transactions and produce reports and analyses. The software is considered one of the easiest to use that even those who don't have backgrounds in accounting can use it. Designed in a workflow format, this program also comes with an audit trail for easily tracking transaction history and identifying errors in records.