Photos serve as memories of the past. You may save them on your computer, memory card, flash drive or even burn them on a disc. If these images get accidentally deleted or corrupted, you can still restore them by using a free photo recovery software. Yes, there are applications that you can use without a cost that can help restore your lost images. Some of these programs may also restore other files including documents, video and audio files.
10. MjM Free Photo Recovery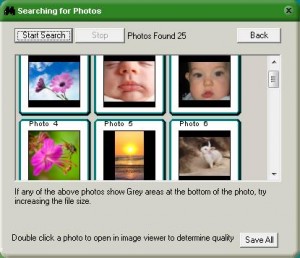 MjM Free Photo Recovery is an easy to use application for restoring accidentally deleted images or photos from a portable storage that was reformatted. You don't have to cry over pictures that you accidentally deleted as MjM can recover them for you. It works on portable storage like memory cards and flash drives. It does not work on hard drives so you may need to use another program if you are trying to recover photos saved on your computer. It is also limited on recovering jpeg files only. It cannot restore those that have different formats. But for jpeg images on portable storage, this application can efficiently recover all deleted photos.
9. ZAR (Zero Assumption Recovery)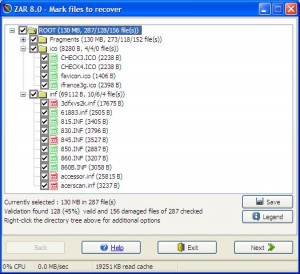 Zero Assumption Recovery or ZAR is an application used for the recovery of data that was accidentally deleted or corrupted on the computer or external storage. This is available for $59.95. However, there is a free version of ZAR that lets you recover images that were deleted from the memory of a digital camera. Install the application and choose Image Recovery (Free) for the recovery option. You can then use it to restore photos from the selected storage. You can recover all photos found or select specific images you wish to restore.
8. Greenfish DataMiner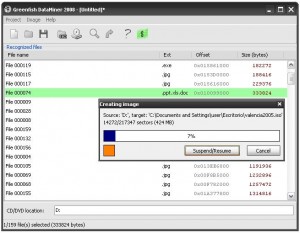 This is a free recovery software that can restore data including photos, video or audio files on CD or DVD. If you saved important images on a CD or DVD but you cannot access them for some reason, you can use Greenfish DataMiner to recover your data. This is a small but powerful application that works effectively without taking much of your system resources. Insert the disc and use the application to recover its content. A copy of the recovered files will be saved on your computer. They can also be burned into a disc as an ISO image is saved. You may copy all recovered files or select only those that you need.
7. PicaJet Photo Recovery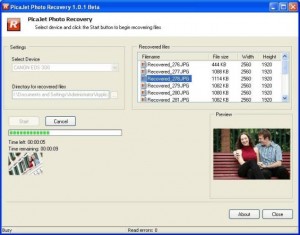 PicaJet Photo Recovery is an efficient tool in recovering accidentally deleted images from almost all kinds of external storage such as memory cards and USB sticks. It has a simple graphical user interface. It is straightforward so you don't need to be a computer geek to use it. Start the application, select the drive and the directory on where the recovered files will be saved then click the Start button. It will start the image recovery process. Click on the recovered image to get a preview of the files.
6. Art Plus Digital Photo Recovery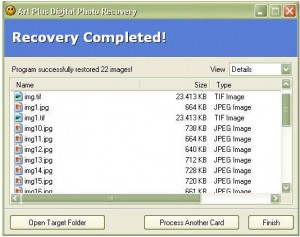 You can download the free trial version of this application. But for full and unlimited access, you may get it for $24.95. It can recover photos from all types of memory cards, whether they are cards used on digital cameras or mobile devices. If your memory card is not read when connecting it to the computer or on your own device, it can still be detected by Art Plus Digital Photo Recovery. It can recover photos of various file formats including JPEG, PNG and TIF images.
5. CardRecovery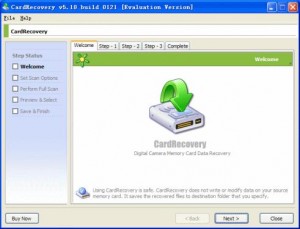 This is one of the widely used recovery applications. It does not just recover photos from memory cards and flash drives, it also restore deleted, corrupted or lost videos. Take advantage of the free trial to see how efficient this program is. It can find images that cannot be restored by ordinary applications. It supports various image formats like TIF, JPEG and JPG, as well as video formats including MPEG, MP4, AVI, MTS, MOV, 3GP, ASF and MPG.
4. Pandora Recovery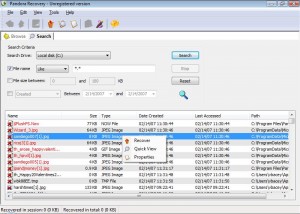 Pandora Recovery is a helpful application for restoring lost or deleted files from your computer. You need another drive or storage to transfer the recovered files. Running the program is easy as it comes with a recovery wizard that will guide on the step by step process of the restoration. As long as the images are not severely damaged, there is a big chance that the program can still restore them.
3. PC Inspector File Recovery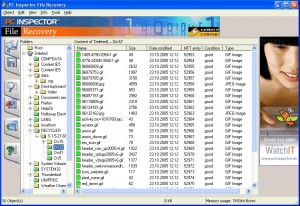 This program recovers data including images, documents, audio and video files on your computer. However, the disk should still be readable for it to run. It supports various formats including JPG, GIF, PDF, ZIP, MOV, PNG and MP3. The original date and time stamp of the files will also be restored. If your files were corrupted, there is no need to fret as this program can recover them for you.
2. FlashPhoenix Photo Recovery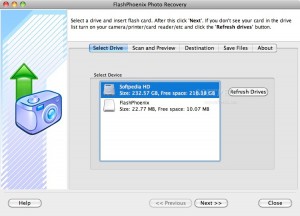 Phoenix Photo Recovery lets you recover photos and other files that were accidentally deleted or lost on all kinds memory cards. It has an intuitive user interface that would immediately tell you what needs to be done to restore files. Select the drive that you wish to scan and click next. The application will scan the selected drive and give you the preview of files that were restored. Scanning and restoring of files is for free. However, if you wish to save the recovered files, you need to purchase the full application for $49.50. Though it requires for a purchase before saving the files, you can be sure that your images are recovered before spending anything.
1. Recuva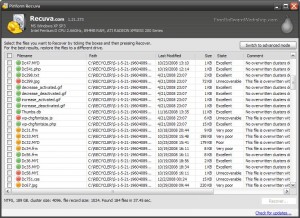 This is one of the top photo recovery applications that you can get at no cost. It is fast and efficient in searching and restoring files. It can find deleted or lost photos from your computer, digital camera, flash drive and memory cards. Select the drive that you wish to check and start the scan. Recuva will show the filename, path, date last modified, size, as well as the current status of the files. Select all or choose specific files to restore.