Mind mapping is all about organizing and visualizing your thought process. It would be easier to conceptualize tasks or ideas when all of your thoughts are written down and well, visible. Such a tool would increase your efficiency in solving problems as well as creating new ideas. Mind map software comes in various forms. It can be very basic or rather complex, but the science behind it is essentially the same. Programs like this may be costly but there are also applications available in free trials. The best kinds of mind mapping programs are those that you can use for free, of course. Even though some options are not as impressive in comparison to paid ones, the free versions are no push-overs since they help organize your thoughts just the same.
10. Xmind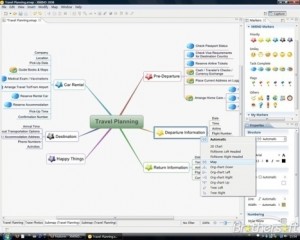 Creating a visual thought process is as easy as counting single numbers with Xmind. It can be used in simple planning such as when you are going on a trip or listing things to accomplish in a week's time. This program is not limited to these functions since it can also be used to make complicated ideas into simple ones. It also features a brainstorming option which allows for quick as lighting idea generation and thought processing. This feature is only available in Pro version.
9. Mindjet MindManager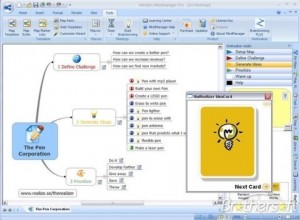 Mindjet MindManager is not your typical mind mapping application. It is actually more advanced than the other programs. This tool however is not free. It only offers a 30 day trial period so that you can explore its features without paying for anything. Mindjet MindManager is mostly used in corporate brainstorming and thought processing. The program can be learned using tutorial provided, but the tutorial is only accessible to you after you have bought and installed it. Even though this kind of software cost a lot of money, it certainly helps corporate people do their job more efficiently by assisting them in arriving at important decisions and conclusions.
8. MindMeister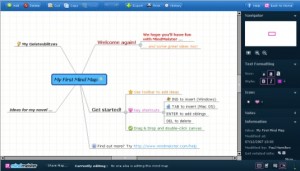 Like any other though processing application, this piece of tool will give you the satisfaction you are looking for. MindMeister is a great application for both simple and complex mind mapping task. It features very effective tools for mapping all your tasks and ideas (and we mean everything). This application was made to comply with basic mapping styles as well as complicated ones.
7. Blumind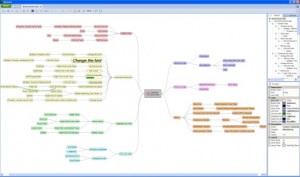 Blumind is among the many mapping tools that are small in size (which is a good thing, actually). The fact that this tool does not take up too much disk space does not mean that it is outperformed by its predecessors. It is considered to be a powerful mind mapping tool that has conversion options as well as template selections. This tool also has color changing capabilities to cater to style conscious users. Anyone can use this since it also packs a multi-language function than can be run on almost all types of OS.
6. MindNode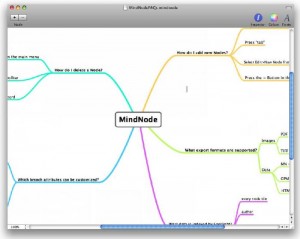 This application is specifically made for Mac users only. This software is very easy to use. Inputting thoughts and ideas with this program is represented by nodes. This node can be dragged and pushed to any part of your screen, which makes it very fun and easy to use. All you have to do is to input all of your thoughts and ideas and rearrange them anytime you want with just a mouse scroll. Even though it is exclusively made for Mac users, the GUI's simplicity makes it look elegant. Better get a Mac so that you can enjoy MindNode as well.
5. Edraw Mind Map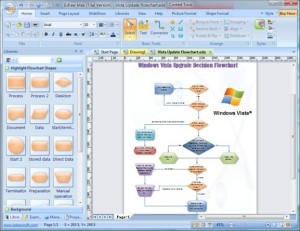 Edraw Mind Map is an easy to use application when it comes to mind mapping. It provides templates for easy usage so that the thought process can be easily represented. Since this tool resembles familiar Windows applications, learning about all the components and how to use them properly would take no time at all. Maximizing the flow of your thoughts with this application is also simple since it can be maximized to your heart's desire.
4. Mind42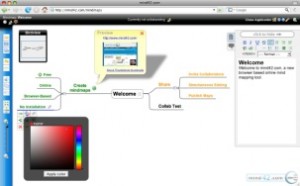 Mind42 is a web application that can be accessed anytime whenever you are online. The good thing about this tool is that it does not need to be installed. As long as you have an Internet connection you can use this tool for free. Another good thing about this mapping application is that you can change the color styles to your preference. Sharing your thought process with others is also a feature of this remarkable application.
3. Bookvar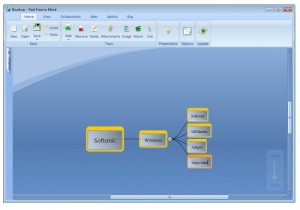 Bookvar can only be used on Windows devices. It is mainly designed to cater to Windows users. It has a very simple graphical user interface. Creating mind maps with this application is also simple. A cool feature of Bookvar is that it allows you to import different file types which you might want to add in your thought process.
2. MindRaider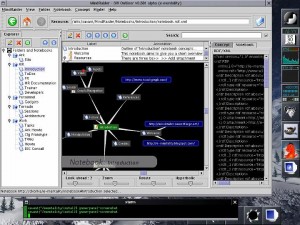 MindRaider is a mind mapping application that can be used in different OS. It is compatible with Windows as well as with Linux. Using the software clearly represents your ideas and thoughts making it easier for you to organize them and arrive with a proper and clearer decision or conclusion. This application has two main functions. It has an export function that allows for the mapped ideas you made to be transferred into another program. Another cool feature of this application is that it has a history function that stores and remembers anything you put on it.
1. Freemind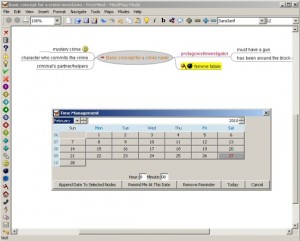 If you are looking for mapping programs Freemind might be the first one you will encounter since it is among the commonly used programs today. Its claim to fame is that it is said to be the ultimate mind mapping application ever created. It has a very simple graphical user interface which provides simple step by step procedures in making mind bubbles. Installing Freemind on your personal computer is also going to be quick and easy since this program does not consume a lot of disk space. Conceptualizing and organizing your thoughts with this application is not at all complicated, and that is why it's our first choice.