"What if?" questions are best answered by simulation and exploration activities. That's the viewpoint of an authority in children's education. There are different software that are now common teaching-learning tools classrooms, in both public and private schools in many countries in the world. When supervised by a teacher or a parent, the following simulation software can contribute significantly to the development of problem-solving skills, reasoning skills, and even academic skills which are integrated in some platforms. Here are 10 popular simulation programs for children of all ages that you can check out for your next educational and fun classroom (or family) activity. We threw in a few simulation programs for teen-agers.
10. Junior Simulation Insight
For children to understand how models work and how they may be used in understanding concepts in essential subjects such as Science and Mathematics (and Geography for older kids). Junior Simulation Insight teaches children about charting and graphing and basic simulation operations using available switches and dials.
9. Derby Manager
Derby Manager may played online or offline. Yes, it is a game, and more specifically it is about horse racing that even has a gambling element to it. Parental guidance is strictly recommended for this particular simulation tool, especially since the gambling rules simulate that or real-life horse racing. Multiplayer options are available and there are a total of 20 race tracks set in different terrain. Injured horses are even fed and "repaired." Like we said, children and teens can learn a lot about real life in this game, and parents need to be there to guide them through the learning process.
8. Paper Train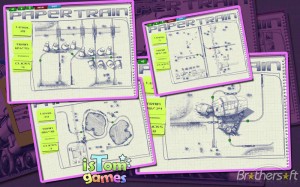 The player's task is to control railroad traffic and avoid train wrecks. Real-life railroading is an extremely stressful job and if you want to raise future railroad employees, air traffic controllers, emergency response personnel and experimental physicists, they this game could build the foundation skills for those future careers. The basic requirements of the game are focus and attention, the ability to make split-second decisions in order to avert disasters, and grace under pressure. Maybe it is best for parents to try out this game for themselves and then decide whether their kids have the personality to deal with the requirements of the game.
7. Luigi Restaurants
Mario's twin brother, Luigi is the only waiter in a very hectic restaurant. The player's task is to help Luigi serve all the demanding customers and get enough tips for a lovely vacation on the Sardinian coast (maybe). You and Luigi also need to clean up after the patrons. What this software is teaching is multi-tasking. No matter what they say about multitasking being overrated, it is still an essential component of 21st century living. And if your child will learn about multi-tasking from waiting on virtual tables, then so be it.
6. Arm Surgery 2
St. Flak's Hospital had just hired you as one of its medical staff. Even if it is your first day, the only help that you will get is form the Head Nurse. You have to rely on your knowledge of medicine and surgery. Children whose ambition is to become a doctor, a nurse or a paramedical professional would thoroughly enjoy Arm Surgery 2. You also have to answer questions and know that basic tools that you need to fix a broken arm, for example.
5. Crazy Machines 1.5
There are 200 new challenges packed inside this compact package. There are 200 new objectives to be met that require a sound understanding of the laws of physics. The games are presented from simple puzzles, and they get exceedingly more complex as you progress in the game. The parts that need to be added to the machines get more complicated as well. And the best part of it all is the time constraint for each level. This game has been receiving praise not just for the educational value, but for the ease of navigation that it provides from the first game to the last.
4. Zoo Tycoon 2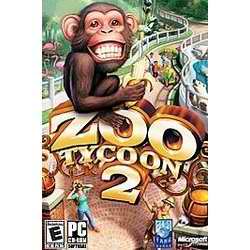 What is being simulated with this game is the management of a zoo and care of various animal species. This is a favorite amongst kids. What kid does not like animals? And zoo animals hold a special place in the heart of kids at a certain age. This software teaches a lot of skills. Simulations include building structures for housing the animals which require not just structural stability. They have to be very specific to the habitat requirements of each animal in the zoo. The player also needs to hire the staff that will take care of the animals and act as tour guide as well. You will have to watch that the animals stay within the confines of their habitats. That's what makes a good zoo manager, and that is the object of this simulation program—to develop good managers at an early age.
3. It's the Big Game Charlie Brown!
This big game that Charlie Brown is in is a life-simulation game. His main task is to convince other kids to form a baseball team with him. And then the next part is the game itself. Since the game entails convincing others to be part of team (the fact that this is Charlie Brown's team makes it even more difficult to accomplish), a lot of challenges await the player at every visit to other Peanuts characters that are in the list of potential recruits. This is probably a sure hit with Peanuts and baseball fans, but it might not be a simulation game for everybody. And the word is, older kids recommend this game to younger ones who don't mind a slow-paced but still challenging romp.
2. 3rd World Farmer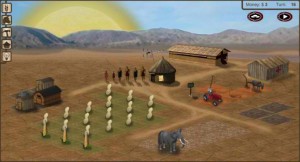 If you are looking for a real challenge (survival is the keyword here), then try maintaining the everyday requirements of a farm in sub-Saharan conditions. Before you move on, this is not a simulation program for children. It is best not to subject the young ones to this type of stress. Teenagers who needed a dose of reality (what else is out there in the real world) might just benefit from this program. There are many tough decisions to be made in which crops to raise in order to alleviate starvation, which tools to buy without sacrificing other basic essentials, and what else to do so that you can earn enough for medicine without having to resort to accepting bribes from potential terrorists.
1. Time Engineers
What kid would not want a simulation game with catapults? But the complexity level makes Time Engineers a game for teen-agers. There is real physics required here and more than a little appreciation of history as challenges shift in location from the rich Nile river valley to Medieval France, to World War II settings. If you are into engineering, then this is the game that simulates the various applications of mechanical, electrical and civil engineering. It is interactive, has great graphics and visuals, and enough bridge building challenges to fill your daily quota.