Creating an impressive resume is important in getting your dream job. Resumes are manually typewritten before but nowadays it is easy to make one with the help of several resume software. These programs will help you boost your resume so it will appear impressive regardless of your work experience.
So far, the following resume applications have been the most recommended ones especially for beginners: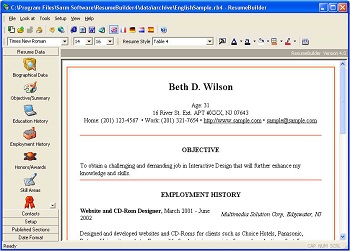 The Resume Builder software made by Sarmsoft is a pretty straightforward program. As the name suggests, the software just facilitates the creation of resumes. It doesn't have notable editing tools as it only provides templates for different resume formats.
Pros: Simple interface, comes with several resume templates.
Cons: Costs $24.95 to download, doesn't have spell check function, few editing tools.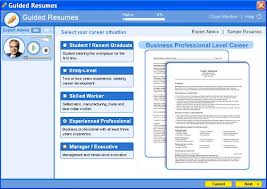 The Resume Maker Professional Ultimate software is equipped with several tools that will help you create a resume and a cover letter within minutes. It has a step-by-step system that makes the process easy to understand. The software also has some smart features that will help you find a job like Job Search, Career Planner and Business Locater.
Pros: Packed with helpful features, with resume templates for over 13,000 professions and careers, with pre-written phrases on templates.
Cons: Costs $29.95 to download, hard to understand user interface.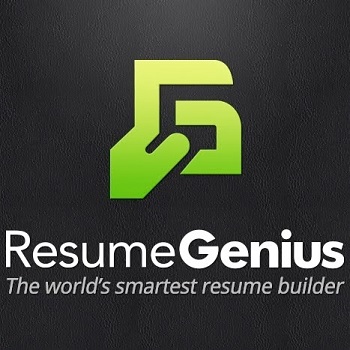 Resume Genius features an online platform where you can create your resume for free. They are also offering resume building tools for download like resume templates, cover letter checklist, thank you letter checklist and interview checklist. The online platform is great to use if you are looking for a free and user-friendly resume builder without the need to install a program to your computer.
Pros: Free to use, with hundreds of resume templates, no registration required to start.
Cons: With upcoming fees for premium services and online support.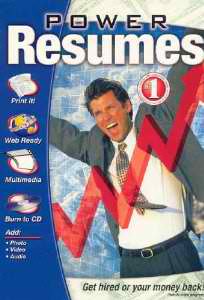 Power Resume is an application primarily focused on resume creation only. Over 50 resume templates can be found in the software along with 340 interchangeable fonts. The software also facilitates burning of resumes to CD or DVD, publication to a webpage and delivery of the resumes through email as a PDF file.
Pros: With 50 resume templates, 340 fonts, CD/DVD burning of resume supported.
Cons: Costs $27.99 to download, doesn't support job search.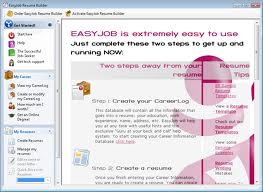 The EasyJob Resume Builder is pre-installed with more than 25,000 resume templates and cover letters. Each template has professional layout and you can select from a pool of phrases if ever you run out of words to use in your resume. Once your resume is finished, you can save it in MS Word or PDF file format. The software also features a list of career tips so you can be on the right track when starting your career.
Pros: Free to download, simple resume builder, with 25,000 resume templates.
Cons: Lack of distinctive resume template, some information in the software are outdated already.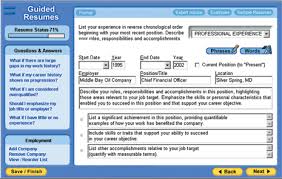 Resume Works Pro is famous for its automated template selection feature. All you need to do is enter your information and the software will choose the best resume template for you. It has resume templates for over 13,000 careers and 150,000 professional phrases for resume creation. The software can also help you get tips for your first interview and teach you how to negotiate your salary.
Pros: Pre-installed with resume templates for 13,000 careers, can burn your resume in a CD or DVD, offers mail merge services, helps in creation of cover letters.
Cons: Costs $14.99 to download, complicated user interface.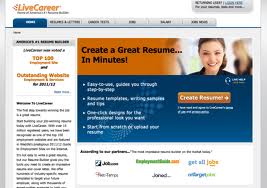 Live Career features an impressive online platform where you can format resumes and cover letters. They are offering several professionally designed cover letters and resume templates. You can also have access to their design tools so you can make your resume standout from the rest.
Pros: Free to use, equipped with several resume and cover letter templates, with tips and advice, with video tutorials.
Cons: Resume builder takes minutes to load, crashes with unstable internet connection.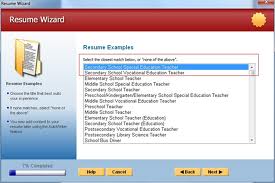 Just like the other resume software around, the WinWay Resume Deluxe software offers resume templates depending on the desired type of job. It also comes with Job Application Organizer so you can organize your job application information. The software also supports image inclusion as it hosts a large graphic library especially made for resumes.
Pros: With 14,000 customizable resume templates, with 400 cover letters, comes with graphics library, supports printing of envelops, comes with partner iPhone app.
Cons: Costs $39.95, different pricing scheme if software will be installed in more than five devices.

Resume Maker for the Web is great if you are planning to use it in the months or years to come. The software is partnered with mobile apps where you can access other career tools like job finder and video tutorials.  There are more than 1,000 resume samples available and more than 150,000 pre-written phrases so it would be easy for you to format your resume.
Pros: With more than 1,000 resume samples, more than 150,000 pre-written phrases, comes with partnered mobile app, supports online publication, allows resume addendum.
Cons: Costs $1.49 per month for students and $2.49 per month for professionals.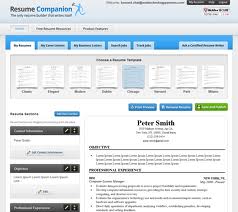 The Resume Companion is one of the best resume software around. It has eight resume templates and more than 60,000 job descriptions. The software also features a cover letter builder and a thank you letter builder. Aside from these tools, you can also have access to their job application tracker so you can monitor all of your job applications.
Pros: Online platform is free to use, comes with Find Job app, with 60,000 job descriptions and eight resume templates, with built-in spell checker.
Cons: Costs $14.95 for a 14-day trial membership, standard premium membership costs $34.95 per month.