A calendar is a must-have item for everyone. It is necessary in overlooking the days or months of the year as well as in scheduling appointments and planned activities.
There are lots of calendar styles available around but if nothing seemed to fit your taste, it will be best to create your own calendar. Here are 10 of the best tools you can use to create personalized calendars: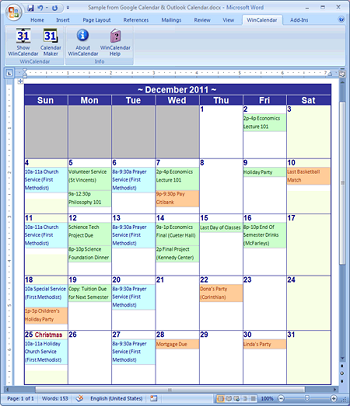 The WinCalendar software is a calendar maker program designed for Microsoft Word and Excel. It has more than 70 layout combinations. Once installed, the WinCalendar menu is automatically included in the native toolbars of Microsoft Word and Excel. The layouts are fully customizable as you can freely add your own appointments.
Pros: Free to download, simple user interface, printer-friendly.
Cons: Lacks detailed design, some calendar templates look duplicated.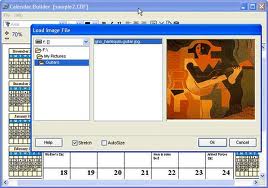 The Calendar Builder is a simple and straightforward calendar maker. There are only 13 pre-installed calendar templates in this software but it can make mini calendars appear next to the main calendars. When creating a calendar, you can insert images or add borders and icons to each calendar page in order to make it unique. You can also make bilingual calendars as the application has four language options.
Pros:  Allows input of graphics, icons and boarders, with hundreds of pre-installed icons.
Cons: Costs $19.95 to download.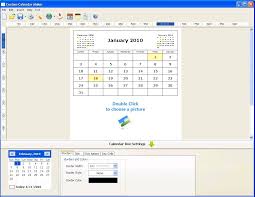 The Custom Calendar Maker 2.0 is a customizable application where you can include your own photos in each calendar page. It's great to use if you are planning to make calendars for party giveaways or souvenirs. There are many templates available and you can edit the color combinations of each template.
Pros: Allows input of personalized appointments and events, lots of templates and font colors available, supports photo integration.
Cons: Costs $19.95 to download, no undo button included when in Edit mode.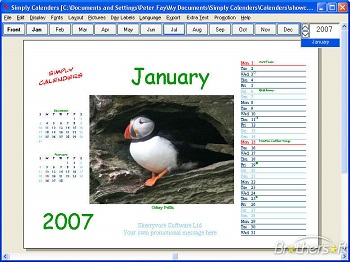 The Simply Calenders software offers the option to make a bilingual calendar. The application has more than 60 calendar styles and supports more than 100 languages. It allows inclusion of edited images from digital cameras so you can personalize each calendar page in your calendar.
Pros: More than 60 calendar styles, supports up to 100 languages, supports photo scanning, comes with built-in image editor.
Cons: Costs $24.95 to download, few image editing tools.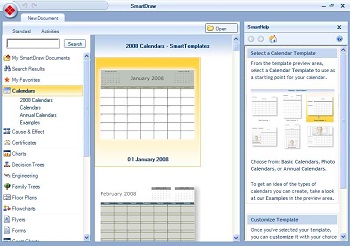 SmartDraw features an amazing collection of professionally designed calendar templates. The calendar templates are customizable and you can add your choice of images, clip arts or business logo. You can also modify the font and color combination of each calendar template so you can format your desired calendar according to your preference.
Pros: With built-in themes, photo integration supported, printer-friendly.
Cons: Costs $197 for businesses and $497 for enterprises, limited themes and calendar templates.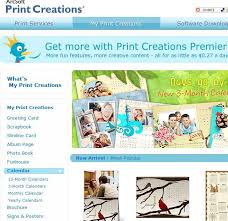 The Print Creations Photo Calendar software offers a creative way of creating a personalized calendar. It's pre-installed with hundreds of colorful templates made by professional artists. When inserting a photo, the software has an intuitive photo editing tool where you can enhance the photos you want to be featured in the calendar. After finishing the calendar, you can print it right away or send it to printing manufacturers for a more professional printout.
Pros: With hundreds of creative calendar templates, printer-friendly, comes with photo-editing tools.
Cons: Costs $29.99 to download, some calendar templates are sold separately.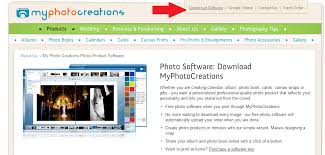 There are two options to create a calendar with My Photo Creations – first, by using a template and second, by creating your own calendar format. Customization of the calendars created is easy as the software is pre-installed with 13 templates, 208 clip arts and 24 vignettes. The software also has 19 editing tools that will help you customize the calendar being created.
Pros: Pre-installed with more than 50 holiday selections and 230 fonts, comes with spell check feature, printer-friendly.
Cons: Costs $24.99 to download, limited calendar templates available.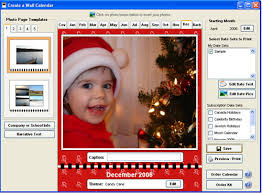 The EZ Photo Calendar Creator has an intuitive user interface that will help you create personalized calendars quickly. It has a drag-and-drop tool as well as plenty of photo editing tools available. It's also pre-installed with more than 200 images in its image library so you can have more options in customizing your own calendar.
Pros: More than 40 calendar layouts available, with more than 300 background selections, installed with 200 pre-designed stickers.
Cons: Costs $29.95 to download, doesn't have undo button.
2. Photo Calendar Creator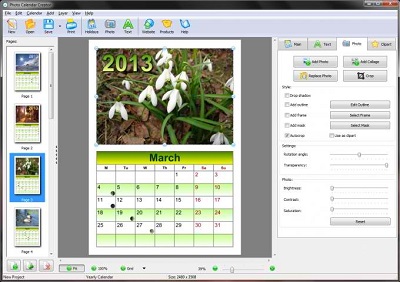 The Photo Calendar Creator is packed with a lot of features to choose from. It is pre-installed with 116 designed templates, 172 background images and 108 clipart pictures. Its large database of graphic and icon selections will give you more ways to customize your calendar. The software is also installed with a smart photo editor so you can directly edit your desired images.
Pros: Comes with undo button, with large database of images, templates and icons, comes with a smart photo editor.
Cons: Costs $39 to download, no spell-check feature.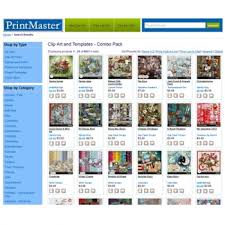 The Print Master Platinum software is a calendar making tool perfect for creative individuals. It is packed with over 21,000 project templates where 577 can be used for calendar creation. In making your personalized calendar, you can import your own images to the software or use the software's large database of images composed of 305,000 pictures.
Pros: Comes with lots of design and photo editing tools, printer-friendly, can be sent to printing manufacturers for a more detailed look.
Cons: Costs $39.99 to download, digital copy of the calendar is good for printing only.