Keeping family recipes alive for the next generation is important in preserving your family's legacy. If the elders in your family are keeping top secret recipes, you should start collecting and documenting these for your family's keepsake.
It is easy to document recipes nowadays as there are lots of cooking applications available around. These programs will help you properly document your family's recipes in a way that is easy to understand.
Below is a list of the best cooking software that you can download in order to start saving all of your family's recipes!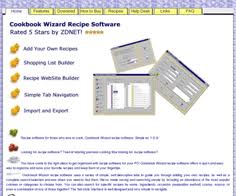 Meal-Master is a free database program optimized for collection of recipes. With this software, you can easily create recipes and save everything for future use. The program is one of the earliest cooking software around and has transitioned from a shareware to a freeware throughout the years.
Pros: Free to download, searchable databases, can download or import recipes online, allows sharing of recipes.
Cons: The user interface lacks design, features look outdated.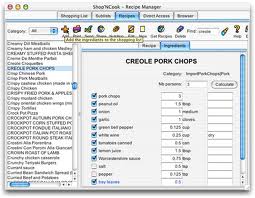 Shop'NCook lets you create scaled down recipes to modify number of servings. You can also create grocery lists and meal planners with this software. The recipe manager of the software can automatically generate nutritional information from your recipes. You can also import recipes from other resources easily.
Pros: Allows users to enter Direct Access where over 30,000 recipes can be downloaded, generates nutritional information automatically.
Cons: Costs $34.95 to download, does not support calendar of meal plans.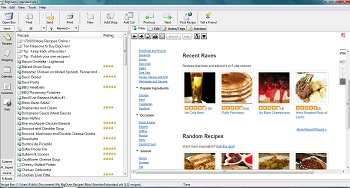 Big Oven not only works as a recipe organizer since it is also equipped with other features like grocery lists and meal planners. The software receives constant up-to-date support from its developer that's why it is packed with great features. The interface is simple and intuitive. When entering recipes, the software automatically saves every change you make.
Pros: Can synchronize with other computers, allows sharing of recipes online, with nutritional information in some recipes, with partnered apps for smart phones.
Cons: Not all recipes are displayed when switching devices, rating system only works for online accounts.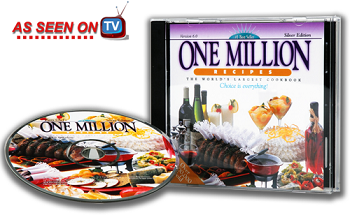 One Million Recipes offers a unique way of categorizing recipes. It can group recipes into specialized diet plans like diabetic-friendly and gluten-free recipes. The software is also capable of generating nutritional information graphs for the recipes so you could know how healthy your meal is. There are over 52 categories included in the software.
Pros: Comes with search tool, generates nutritional information graphs.
Cons: Costs $9.95 to download, does not support creation of new categories, bookmarks and folders.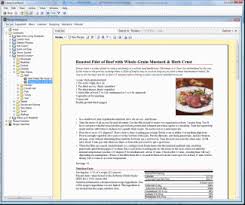 The Living Cookbook is an interactive cooking application. You can create and collect recipes with this program. You can also create meal plans and manage your kitchen's inventory aside from creating recipes. The application's interface looks a lot like spreadsheets for a more structured approach to cooking.
Pros: Can calculate nutritional content for recipes, with built-in web browser, supports database backup.
Cons: Costs $34.95, consumes a lot of hard disk space, requires installation of microsoft.net framework.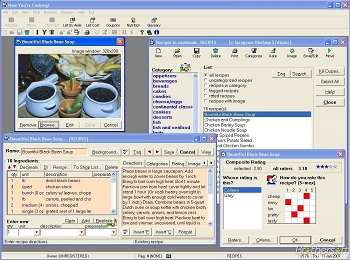 Now You're Cooking is another cooking application useful for recording recipes. It supports 14 languages and can even spell-check entries automatically. It can also import recipes from other cooking software.
Pros: Automatically categorizes recipes, supports backup, allows emailing of recipe.
Cons: Costs $30 to download, software looks outdated.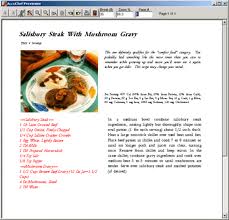 AccuChef is a simplified recipe application. When using this software, you can only see two screens – the first one is the browser where you can search for your recipes while the second one is the editor window where you can create recipes. You can also create shopping lists with this application.
Pros: Print recipes/cookbooks and shopping lists, can generate recipe costs per serving, comes with built-in coupon database.
Cons: Costs $19.95 to download, complicated installation process for Windows 7 and Vista.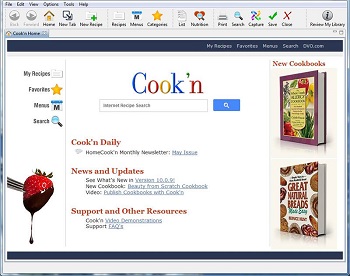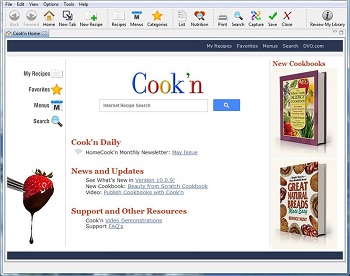 Cook'n Recipe Organizer is a cooking application that comes with menu planner and recipe manager. It is easy to import all of your recipes from other programs through this software. You can also capture recipes from other sources using the software's capture tool – just simply click the capture tool whenever you encounter a desirable recipe online.
Pros: Superb online support, meal planner compiles grocery list, automatically generates nutritional information.
Cons: Costs $69.95 to download, additional cookbooks must be purchased.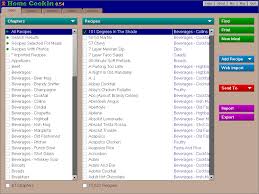 Home Cookin is a cooking application that specializes in producing printouts. You can easily print beautiful recipe cards with this software. For compiled recipes, you can also print cookbooks. Another strong feature of this software is its amazing way of keeping recipes organized. It can automatically detect duplicated recipes so each recipe will be truly unique.
Pros: Comes, with pre-installed recipe database, detects duplicated recipes, can adjust serving sizes of recipes.
Cons: Costs $39.95 to download, does not support partnered apps for smart phones.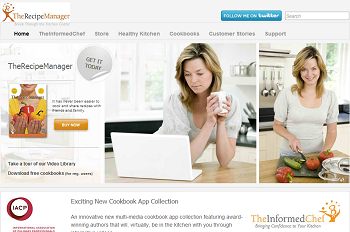 Pre-installed with over 1,000 recipes, The Recipe Manager focuses more on recipe collection. You can also add more by importing recipes online. The software has more to offer through their official website where you can browse more cookbooks available for download.
Pros: Sorted alphabetically, can create meal planners, with drag and drop function.
Cons: Costs $6.95 to download, sharing of recipes is only possible for those who also have the software.