A screenwriting app is helpful in structuring written creations so it would be easy to finish a paper in the fastest way possible. These applications are also ideal to use when you suddenly have that burst of creativity; imagine having the chance to easily write down your ideas in your iPad anytime and anywhere you want.
Fortunately, there are many free screenwriting software available for download online, and here's a list of the top programs you can consider for your iPad: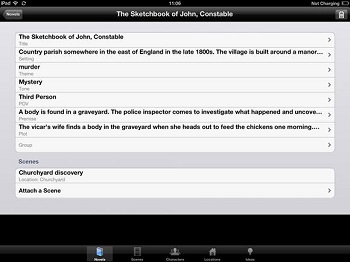 This app made for iPad is helpful in plotting your preliminary story lineup for your next novel or script. The app is structured well so you can chop your story plot into several bits. It will make it easier for you to edit and add more details as you can instantly spot flaws by overlooking the structured entries.
Pros: Free to download, simple user interface, enhances story lineup.
Cons: In-app purchase is needed to sync the app with Dropbox.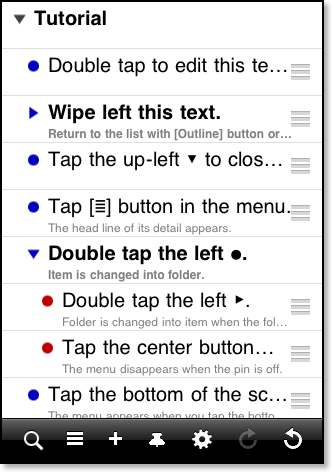 Organizing your ideas for your next screenplay is easy with Simple Outliner. This app for iPad is helpful in arranging screenplay ideas so it will be easy to start screenwriting once you can have an outlined view of your ideas. The app is very easy to use and free to download in iTunes.
Pros: Free to download, simple user interface, no in-app purchases required, comes with undo button.
Cons: Limited editing tools, inaccurate autocorrect feature.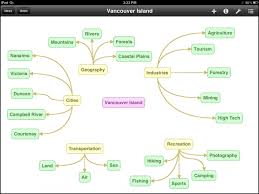 If your mind is full of ideas and you don't know where to start, it will be best to do a diagram first. Making a diagram of ideas is great in forming an initial story plot for your next script. Idea Sketch offers a simplified approach to this kind of concept mapping and you can use this app in outlining your ideas.
Pros: Free to download, easy to use, neat user interface.
Cons: Limited editing tools for the diagrams made.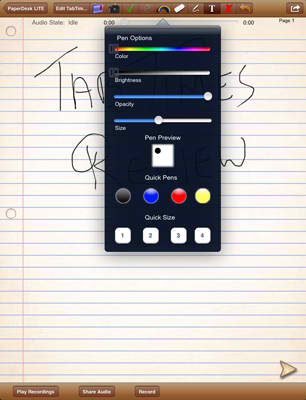 PaperDesk is basically a note-taking app where you can freely enter your ideas for your next screenplay. It works like a notebook and you can choose to use digital pencils or gel pens in writing down your ideas. It's perfect for outlining your concepts anywhere and anytime especially when you have sudden boosts of creativity outside your office.
Pros: Free to download, comes with colorful editing tools, supports sketches, allows in-app audio recording.
Cons: Menu list is fixed on the left side of the app which may be inconvenient for left-handed individuals.
The MobileNoter for iPad is another excellent note-taking app. It features several divisions of notes where you can keep your ideas organized across different notebooks. The app is great if you are working on several screenplays and you want to sort your initial concepts across different organizers.
Pros: Free to download, syncs with MS OneNote, great partner app for other screenwriting software.
Cons: Glitches in synchronization through Wifi, prone to data corruption when syncing between different iPads.
Arrow Note is a rich text editor equipped with arrow keys. It can be used in writing screenplays because of its responsive multi-functional text editor. It is practically useful for long texts. You can also find a word count toolbar within the app.
Pros: Free to download, simple user interface, with find and replace word function, supports folder-based filing system.
Cons: Does not support synchronization, does not include undo button.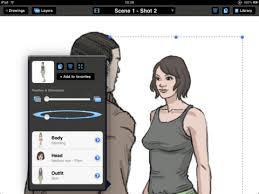 The Storyboards app for iPad is great for organizing conceptual ideas. It is commonly used by screenwriters in visualizing screenplay ideas by creating mini storyboards.  Visualizing a scene in your mind is now easier with this app; it features several tools that you can use in creating scenes by just dragging the characters and props within the screen. The application is generally easy to use and lightweight to keep in your iPad.
Pros: Free to download, with hundreds of characters and props included in the app.
Cons: Free version is limited to 2 storyboards with 10 drawings only, in-app purchases necessary for additional storyboards.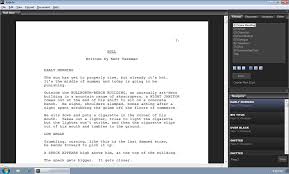 Fade In is a screenplay application equipped with great script formatting tools. It also provides several script styles and other useful tools in selecting location and character names for your screenplay. The app is easy to navigate and helps in optimization in order to improve readability.
Pros: Free to download, optimizes script styles, comes with screenplay editing tools.
Cons: Some features locked for paid version only.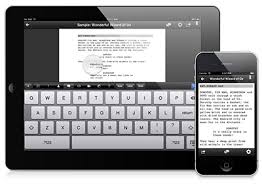 Celtx Shots helps in screenwriting by facilitating storyboarding and set blocking. It's great in generating ideas when developing a screenplay. The app also allows synchronization if you are using other Celtx applications.
Pros: Free to download, interactive storyboard plotting.
Cons: Few art packs included, doesn't include undo button.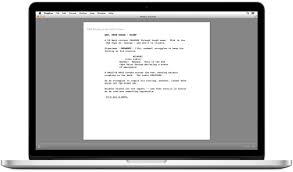 SlugLine is an elegant screenwriting app for iPad. It's a brilliant alternative for other pricey screenwriting apps like Final Draft. The app can automatically format your script so all you have to do is focus on writing great ideas for your screenplay. The app is available for purchase but you can download a free demo to try it out.
Pros: Responsive user interface, automatic format feature, automatic outlining function.
Cons: Full version costs $39.99 to download.