There are several file recovery programs that exist and can be obtained online for free. These programs are developed to help you in recovering the files that have accidentally been deleted. These file recovery software can make the deleted files be restored and "undelete" them on your computer. Why can you still recover the files you have deleted even if you have already emptied your recycle bin? This is because the deleted files are still there on your computer (on your hard drives, both internal and external) and they are listed in the registry of your computer. Therefore, the file recovery programs can recover these deleted files. However, there is one problem in recovering accidentally (or not) deleted files – the media in which they are previously stored must not be wiped out or formatted because the file recovery programs cannot access it anymore since the registry has also been wiped away. Anyhow, here are the top 10 free file recovery software.
10. TOKIWA DataRecovery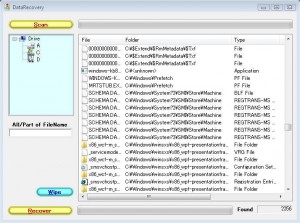 TOKIWA DataRecovery is one of the best and most effective file recovery software that you can use. It has an easy to use interface. Upon opening the program, you will see one program window where you can quickly do a deep scanning for the files you want to recover. It will be listing down the things that it does find after the search process and you just sort the files and then undelete. This program works for all types of hard drives, whether the internal, external, memory cards, USB and more.
9. CD Recovery Toolbox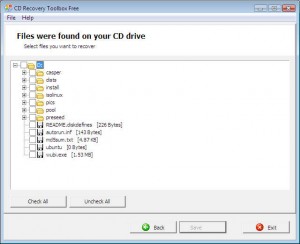 The CD Recovery Toolbox provides free tools to recover deleted files. It is unique in such a way that it can recover files from optical disc drives and these are CDs, DVDs, Blu-Ray discs, HD DVDs and much more. You can recover the files from your optical discs that had been chipped, had surface spotting or were scratched. Knowing that, the only limitation of the CD Recovery Toolbox is that you cannot use this program to recover files from the drives of your PC.
8. ADRC Data Recovery Tools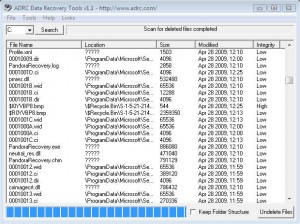 The ADRC Data Recovery Tools, which is a free program, provides great file recovery help for you. It has a straightforward file recovery process and even common computer users will have an easy time in utilizing this software. It can recover deleted files in all hard drives – internal HDD, external HDD, USB drives, memory cards and the like. This program is very lightweight in terms of the file size in downloading it and can be carry around anytime and anywhere.
7. FreeUndelete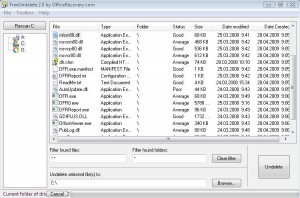 The FreeUndelete is another great free tool to 'undelete' deleted files. The name says it all! This program offers similar functions just the other programs mentioned above, but it has a "folder drill down" feature instead of the common "list only" ones that other software normally provide. The interface of this program is very intuitive and user friendly and even novice PC users can understand the layout and how to navigate it. It is highly recommended that you have this recovery tool on hand whenever you are using your computer.
6. Avira UnErase Personal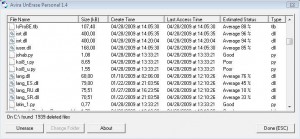 The Avira UnErase Personal offers a free and simple file recovery tool. You need to install this software after downloading it online. Upon running the program, you will just click one button and you are on your way to recovering your deleted files. It operates to HDD such as the internal and external ones as well as to memory cards and USB drives.
5. Restoration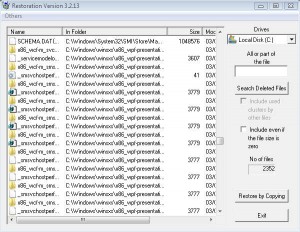 The Restoration is another free to own and download file recovery program having similar features as most file recovery programs we have seen. It offers a very simply operation, so much so that novice PC users will have an easy time in recovering their accidentally deleted files. In one window, you see all the things that you need to recover.
4. SoftPerfect File Recovery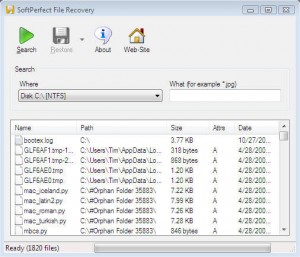 The SoftPerfect File Recovery systems provides a free yet superb tool to recover and undelete your deleted files. With its easy to understand interface, you can easily look for the files you have deleted and want to recover. If your deleted files were previously stored in internal or external HDD, USB drives and memory cards, this is a program to try to recover those files.
3. Pandora Recovery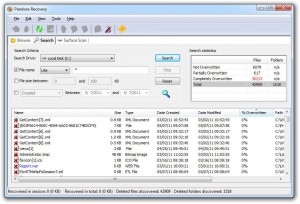 The Pandora Recovery is another superb file recovery program that you can download for free. It has an interface that is very easy to understand and use. It also features a wizard that will guide you along the way as you try to recover deleted files from your PC. It also has an advance way of scanning called the "Surface Scan" that will enable you to see more deleted files. In order to use this program you have to install it unlike the other stated earlier that does not need any installation.
2. Glary Undelete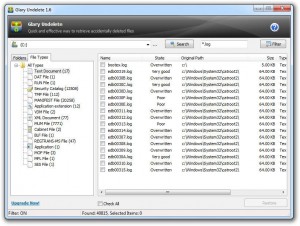 The Glary Undelete is one of the best file recovery programs out there that comes for free. You will find that this one has very intuitive and user friendly interface and is easy to navigate. It has a folder view in which you can easily sort the deleted files that you want to recover. It also shows the state or the condition of your deleted files. This is helpful because you will know if you can still recover these files or not. It needs to be installed and it can run on Windows 7 operating system.
1. Recuva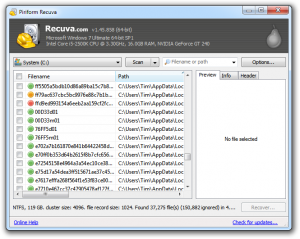 The Recuva file recovery software is the best program in this category. You can download it for free; install and use. Its interface is very easy to comprehend and follow. It also indicates if the file can be recovered or not. It can recover files that are deleted for long time. It can perform deep scanning. It can work on internal and external HDD, memory cards, USB drives and even to the iPod. It is easy to use and after installation, you can use it immediately and navigate through the single window operation. Truly hassle free right? That's why we voted it to be the best.